'Tis the season of amazing Christmas cookies and so much more.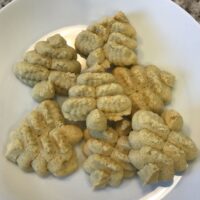 What's your mindset these days?
A. It's the holidays so I'll eat whatever I want and deal with it next year.
B. It's the holidays so I'll eat whatever I want and spend more time exercising.
C. It's the holidays so I'll starve all day to save up for the party food/drinks.
D. It's the holidays and I'm losing my mind because I'm so stressed out.
E. It's the holidays and I'm trying my best to not eat too many treats and I'm doing ok.
F. None or ALL of the above or some other combination, depending on the day.
Whatever description best fits you, here's a fresh idea.
What if you took the focus OFF the food and focused on adding some extra movement into your day?
I think that sometimes we get so caught up thinking about not eating too much of something, we get obsessed with it.   
It happened to me the other day. I'd eaten a satisfying meal rather early in the evening, and then started thinking about popcorn.
Probably because when my family was visiting during the Thanksgiving holiday, we watched a movie and ate some really tasty popcorn—right after dinner.
It was very fun.
So, there I was, on my own, wanting that popcorn.
I kept talking myself out of it, then back into it, until I finally made the stuff.
The good news: I only made a small batch, and I was happy. Done.
Funny thing was that I had plenty to keep me busy, so I wasn't bored. I just got it in my head that I wanted popcorn and it wasn't going to go away. However, I was feeling a bit hungry by then… (justification of my actions by the food police.)
That's what I mean about getting overly obsessed about a food. It could be anything.
If you recall, last week my friend had an encounter with some gingerbread men—12 of them. (But they were small.)
Here's an alternative to focusing on food.
Get Moving.
Maybe you are already in a good place with walking or running or hitting the gym or something, anything.
Or maybe you're not.
Whichever it is, focus on sticking with your exercise routine or start walking—even a little bit. (Can you do 5 minutes 3x a week to start?) 
And not with the mindset to burn calories and lose weight. This thought process isn't productive. There are studies that prove it.
Think of your chosen exercise as something to help you:
Increase strength
Boost confidence
Relieve stress
Improve your mood
Increase your energy
Improve blood pressure, blood sugar, and blood lipids
Enhance movement skills, balance, and endurance
The time you invest in starting or continuing your exercise habit is well worth it. Just 15 minutes of medium-intensity exercise can lead to immediate improvements in mood and working memory.
 (Check with your doctor before starting a new exercise program.)
And speaking of cookies…
Saturday's Amazing Cookie Bake was a hit and my Christmas tree spritz cookies turned out actually looking like trees this year.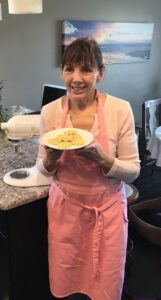 And yes, they taste amazing.
Last year I had a broken cookie press, so instead of trees I had ornaments. (Round blobs of dough that I named "ornaments.")
If you'd like help adjusting your current mindset around food and/or exercise, shoot me an email and we'll work it out. There's no time like the present.
Merry about 2 weeks away from Christmas,
Health Coach Carol
"When it comes to health and well-being, regular exercise is about as close to a magic potion as you can get." Tich Nhat Hanh