Here's a quick and easy meal that's big on flavor. Pan fried in the kitchen or grilled outdoors, they're delicious! The addition of olive oil keeps them from being dry. For those of you who don't eat dairy and like a little "kick," add a bit of cayenne pepper.
1 pound ground turkey (93% lean)
3 or 4 fresh basil leaves, chopped
1-2 Tablespoonfuls extra virgin olive oil
1 teaspoonful (or to taste) Lawry's Seasoned Salt
Strong cheese, such as Romano, Swiss or BellaVitano Merlot (optional)
In a small bowl, combine ground turkey, chopped basil leaves (cutting with kitchen shears works well, too), extra virgin olive oil, and Lawry's Seasoned Salt. Make into 3 patties. Grill or pan fry until brown and cooked through. Testing with a meat thermometer is a sure way of knowing when they are done. Add a bit of cheese at the end of cooking time.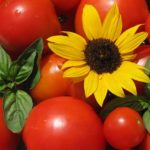 Serve with sliced Vidalia onions, tomatoes, lettuce, and your favorite condiments.
A note about cheese: for those of you who tolerate dairy products, a small bit of very flavorful cheese compliments the mild flavor of the turkey beautifully. I like BellaVitano Merlot, a Cheddar-Parmesan inspired cheese immersed in Merlot wine for extra tang. It is sold by weight and I have found it in Costco and other local grocery stores that sell fine cheeses. By using a cheese with a more robust flavor, you need less. Of course, goat cheese is another option.
"You don't have to cook fancy or complicated masterpieces — just good food from fresh ingredients." – Julia Child