Indiana plus June equals strawberries. 'Tis the season to enjoy the best of the best.
When my boys were little, we would make the trip to Johnson's Farm in Hobart on Ridge Road and ride the school bus out to the fields to pick the tastiest strawberries. I still remember the dust that would float through the open bus windows and settle over the old green seats. One of our favorite things, besides eating as many as we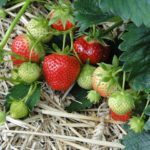 could while we were busy finding the most perfect ones, was to put our faces down into the buckets as we filled them, and simply inhale. The aroma was so intoxicating that it made us giggle aloud!
Another equation for strawberry picking goes like this: Two little boys + plants low to the ground + intense sun as it approaches noon + heat = COMPLAINING. Fun memories, and I recommend giving it a try. Hint: Go early in the day.
Whether you are into picking your own or paying a bit more for someone else to do the labor, local strawberries are typically available through June. Berries of all kind are a great fruit to enjoy–low glycemic index (so it will not cause a spike in your blood sugar) and lots of antioxidants. How about it—they are delicious AND healthy!
Ideas for AMAZING ways to eat them, besides straight up: (it's all about the balance!)
Homemade shortcake, muffins, pancakes or bread
Sprinkled with regular, chocolate, or other flavored balsamic vinegar
Topped with CoCoWhip (a whipped coconut oil instead of Cool Whip)
Pie (plain strawberry or with rhubarb)
Jelly or jam, which is what I used to make back in our picking days
Mixed with Greek yogurt
Protein smoothies
In oatmeal
With chocolate coconut mousse
I'm sure there are many more, but at least this will get you started. Of course, if you are trying to cut back on gluten, carbs, sugar, etc., then plain is perfect. When they are this fresh, "just the strawberries, please" is perfect.
I have six plants in my garden; however, they are not quite producing a bumper crop. Here's the good news:  Johnson's Farm in Hobart still lets you pick your own if you wish. It is a good idea to call before you go to make sure they have plenty of berries available. Picking the berries could be your exercise for the day. Oh, and remember to wear your sunscreen and drink plenty of water.
Enjoy~
"Strawberry Fields is anywhere you want to go." –John Lennon