One week away from the official start of what many Americans consider to be the holiday season. Since you may not read your emails next Thursday, my special nuggets are hitting the page today.
Turkey
If you're planning to cook turkey and purchase a frozen bird, you'd best go buy it today. Depending on the size, it could take a week to thaw in your fridge. I typically cook a fresh bird. Surprisingly, I found fresh, organic turkeys at Costco.
Potatoes
Mashed potatoes are a favorite side dish. This year, instead of peeling the potatoes and boiling them for mashing, I'm going to bake them, then peel and mash. Baking dries them out more than boiling, allowing for maximum absorption of the butter and milk, resulting in a fluffier texture.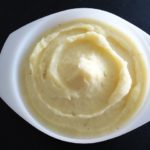 If you choose to boil your potatoes for mashing, leave the skins on and boil them whole. Once tender, transfer them to a bowl of ice water for about 20 seconds, The skins will slide off, and you're ready to mash—a simpler way to peel.
Least Liked Sides
According to a recent survey, canned cranberry sauce is the least liked Thanksgiving food that people eat "just because." Of course, Mr. Non-Compliant loves the stuff. Apparently a third of households serve it still in the shape of the can.
Chef Jacques Pepin—whose wife loves the canned sauce—slices the jelly on a mandolin. He then lines a martini glass and cuts some of the slices in half for the center, twisting them a bit. It looks like a rose, complete with a sage leaf tucked in the side.
Chef Jacques and I prefer the real thing–cranberry sauce or relish. We agree, that there's always one in every family who only eats the canned variety.
Green bean casserole came in second in the least liked category. Thankfully, my family prefers sautéed green beans or asparagus. We can actually taste the vegetable, and the sodium content is much lower.
Also on the list: sweet potato casserole, pumpkin pie, and turkey.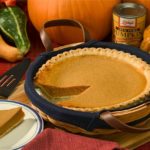 More Tips and Tricks
If you really don't care to eat something, politely pass. Why fill up on food you don't like?
Enjoy your favorite foods, and stop eating before you're stuffed. Slow down, enjoy being with your family and friends, and save room for your favorite dessert.
Only eat it if it's amazing!
Be grateful.
Schedule a complimentary call with me, and keep the seasonal weight gain from making its appearance.
 Thanks for reading. Wishing you and your family a beautiful Thanksgiving!
Much love,
Carol
"Thanksgiving is an emotional holiday. People travel thousands of miles to be with people they only see once a year. And then discover once a year is way too often." – Johnny Carson