Depending on where you live, it may be time to plant a garden.
We are now frost free in Northwest Indiana. Allegedly.
We'll see…
The rule of green thumbs around here is that it's safe to plant after Mother's Day.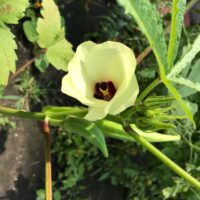 Grateful for the warm days of late and hoping that the sun sticks around.
Whether you have a green thumb or not, a generous area to plant a garden or only a patio, are a seasoned gardener or a rookie, here are a few tips to help inspire you and cheer you on to gardening greatness.
Tip #1
Gardening is supposed to be fun and relaxing. If any of these ideas cause you to cringe because it's "one more thing to do," then become good buddies with someone who always grows too many tomatoes and cucumbers. You'll enjoy fresh produce without the stress. Or visit your local farmers market.
Tip #2
If you're new to gardening and aren't sure what to plant, consider growing a few herbs in containers. Fresh herbs add a delicious twist to salads, dressings, and recipes. They're easy and attractive. Common herbs to grow: basil, parsley, rosemary, cilantro, chives, thyme, sage, mint (this one spreads and comes back every year, so it's a good idea to only grow it in a pot).
 Tip #3
Seeds take several weeks to get off to a good start. Serious gardeners plant seeds indoors in the early spring so that they can move the plants to the soil once it's warm. If that's not you (it's not me either) plant seedlings from a garden center that are already big enough to distinguish from the weeds.
Tip #4
Choose vegetables that you enjoy eating and maybe one that you are not familiar with. Last year I grew okra for the first time and was fascinated by the way the vegetable grew from a beautiful flower. Remember to get your hands in the dirt to promote a diverse gut microbiome. (We need good "bugs" in our intestinal tract.)
 Tip #5
Good container vegetables include tomatoes, peas, potatoes, zucchini and squash, lettuce and salad greens, peppers, cucumbers, radishes, arugula, eggplant. Of course, these will also do well in a garden bed. Full sun (6-8 hours of direct sunlight) is recommended for most herbs, vegetables, and fruits.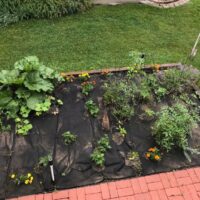 Tip #6
Doing is better than perfect. When we lived on the farm, my dad planted a HUGE garden and to my recollection, it was always garden magazine worthy. My garden is not that way. It makes me happy and it's "good enough." Garden your way, whether you have an acre of vegetables planted—or one patio container with a tomato plant.
Having fresh food just outside your door is a healthy treat. Enjoy this beautiful time of year, weeds, and all.
Much love,
Health Coach Carol
 "There are no gardening mistakes, only experiments." – Janet Kilburn Phillips