3-INGREDIENT BROWNIES (Paleo, vegan, gluten-free, refined sugar-free)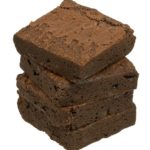 3 medium, overripe bananas (approximately 1 cup or so)
1/2 cup smooth almond butter (or any smooth nut butter)
2 T – 1/4 cup cocoa or cacao powder (more = richer taste)
You may like to add a small amount of coconut oil to make these a bit moister.
Preheat the oven to 350 degrees. Grease a small cake pan or loaf pan and set aside.
In a small glass bowl (for microwave) or in a pan (for stovetop) melt your nut butter. In a large mixing bowl, add the banana, nut butter and cocoa powder and mix very well. If you prefer a smoother texture to your brownies, use a mixer or blender.
Pour the mixture into the greased pan and bake for about 20 minutes or until cooked through. Remove from the oven and allow to cool completely before slicing into pieces.
These are best refrigerated–or frozen, my favorite–and they keep longer too. They may spoil rather quickly if kept at room temperature.