'Tis the season of Farmer's Markets and an abundance of fruits and vegetables grown locally. Well, almost. In winter, it can be such a challenge to find a tasty tomato or strawberry.
June is the month in Indiana for homegrown strawberries. July is for blueberries and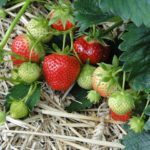 corn on the cob, and August is the month of peaches. I realize corn on the cob does not really count as a vegetable, however it is a wonderful vehicle for butter and salt. When it's amazing, and we live in the heartland, we enjoy it.
Here is a real eye-opener: Eating at least 10 servings of vegetables and fruits each day may help lower your blood cholesterol. There are numerous substances in food that have cholesterol-lowering properties. Many are found in vegetables and fruits. Mother knows best, again. Now I know why she made me eat those stinkin' green beans! (I like them now.)
Of course, there are many other reasons to increase your intake of vegetables and fruits. Among them:
They are alkaline producing, which can help to preserve bone mass and muscle tissue.
They are rich in antioxidants, vitamins, minerals, fiber and phytonutrients.
They contain lots of water to help you stay hydrated.
Because fruits and vegetables have a high water and fiber content, they're low in calories relative to their volume. Consuming them on a regular basis can result in a higher volume of food intake. A high consumption of low calorie density foods can help to control overall food intake and manage body weight. In other words, when you fill up on fruits and vegetables instead of other foods, it can help you lose weight. Sweet!
If your goal is to reduce body fat, the ratio of vegetables to fruits should be 5:1. To maintain your current numbers, the ratio is 3:1.
I will admit, 10 servings of these wonderful foods do not quite make it on a daily basis with our family. We can do better, so we practice. I enjoy growing a few vegetables among all the weeds, especially tomatoes. Give it a try, even if you only have room for a couple pots on a patio. (Less to weed then!)
Another thing I like to do is bring home a "new" vegetable and then figure out a tasty way to prepare it. I challenge you to do the same. If you get stuck, shoot me an email and we'll figure it out together.
The more colors and variety, the better. Have fun with this. Buying local produce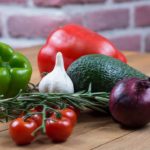 helps support those who live in or near your community, is fresher than produce coming from another country, and has a higher nutrient content. What's not to like?
For those of us who live in Indiana, the arrival of Farmer's Markets is simply another reason to be glad it's spring!
"Life expectancy would grow by leaps and bounds if green vegetables smelled as good as bacon." – Doug Larson