This past weekend, my dear beloved, aka Mr. Non-Compliant, made me the most delicious Birth Month Cake. I refer to it as the Birth Year Cake, so we have agreed to disagree. Since my birthday is in February, the Birth Year concept offers much grace.
My cake was yellow with chocolate frosting, made with real, organic ingredients. Oh, and most importantly, he made it with LOVE. The best part was that my boys and some friends were in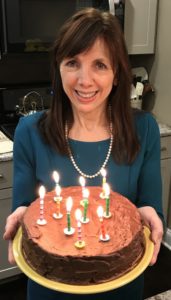 town to share it.
The point of this is that I savored every bite, including the ice cream that came along for the ride. This indulgence is one of my very favorite treats.
One of the tricks of eating in a healthy manner over the long haul, is to savor the good stuff. Every bite of that cake was a reminder for me of birthdays past when my mom or grandma made me a cake. It was as much about reliving a childhood memory as it was about the food. And, it was amazing.
How many experiences are the same for you? You make the apple pie the same way your grandma did, and the smell of it baking warms your heart. The Easter breads and nutrolls remind you of a time when no one said much about gluten.
This week, whether you are enjoying a simple cup of coffee, spinach salad, or homemade Birth Month cake, practice the art of enjoyment. Whatever you choose to eat and drink must be worthy of nourishing the only body you have.
Sometimes circumstances dictate food options that are not ideal. Do the best you can and choose to enjoy whatever it is that you're eating. And when you are presented with the most wonderful treat that's made with love, allow gratitude to fill your heart and savor the moment. Oh, and share.
"Cakes are healthy too, you just eat a small slice." –Mary Berry