Each trip to the grocery store these days is a new adventure. It has become such a conscious, thought-out process.
What time is best? Where am I most likely to find what I need? How quickly can I get back to my home?
As usual, more questions than answers.
While I was victorious in my hunt for toilet paper, there is another item that eludes me. My latest challenge is finding a bag of organic, unbleached (or any white) flour—full of gluten, mind you—so that I can make Mr. Non-Compliant his favorite cookies. Now, under "normal" circumstances, this is not a problem.
Interesting that every store I've been in has GOBS of sugar, and no flour. Perhaps the masses have taken up bread making, which is great. However, this leaves me with a very sad Mr. NC.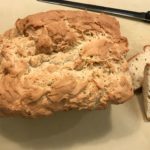 In the meantime, I keep him happy with those Easter colored plain M&M's—in small bags, so he doesn't get carried away. I've heard that some folks are struggling to keep their weight in check with all this staying home business, since they find themselves going to the kitchen a few too many times throughout the day. (If this is YOU, I'll see you at my Zoom Group Coaching on Saturday.)
The bottom line: if you are one of those people who bought flour to bake cookies, let Mr. NC know and he'll drive by your house so you can toss a few in his direction. He told me he's happy to help humanity with their struggle to fit in their jeans.
In case you need a new snack to make while you're hanging around the house, here you go.
Crock Pot Trail Mix
This slightly sweet recipe will give you energy on and off the trail. The nuts offer protein, fiber, and fat, along with some vitamins and minerals. A handful, about ¼ cup, makes a great snack any time of day.
2 cups raw walnuts (halves or coarsely chopped)
1 cup raw whole almonds (or cashew halves)
1 Tablespoon sugar
2 to 3 Tablespoons coconut oil (or 1 to 1 ½ Tablespoons butter, cut in slices)
1 teaspoon vanilla extract
1/3 cup semi-sweet or dark chocolate chips
Place nuts, sugar, coconut oil, and vanilla in a crock pot and mix. Place on High for 45 to 60 minutes and stir occasionally to prevent burning. Turn to Low and continue cooking for an additional 20 to 30 minutes, stirring a time or two. Place the nut mixture on paper towel to absorb excess oil, and let cool at least 15 minutes before mixing in the chocolate chips. Store in an airtight container or Ziploc bag.
Stay well, my friends.
Much love,
Carol
"All of us might wish at times that we lived in a more tranquil world, but we don't. And if our times are difficult and perplexing, so are they challenging and filled with opportunity."― Robert Kennedy