This is my favorite blog post of the year. Celebrating the Birth Month. I write it in February because…yes, you guessed it. February, which happens to be the shortest month, is my Birth Month.
Celebrating my Birth Month has been my mantra for over a decade. I will be 59 years young, and one day of celebrating is simply not enough. Let's face it– friends lose track of dates and then feel bad because their birthday greeting is belated. Please, do everyone a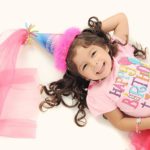 favor and join me in the Birth Month celebration.
When I turned 50 and my husband threw me a surprise party (and yes, I was moved-to-tears surprised), the question came up as to how the Birth Month time frame was calculated. Is it 30 days before, after, or the month in which the actual day falls? Well, since February got a bad deal, even on a Leap Year, I chose wisely. Short answer, "Yes."
Some folks thought that was cheating. I think not. Besides, I made up the game; I figure I can make up the rules.
I know there are people who deny birthdays and their age. However, I think it is fun to enjoy coconut cake with a fellow Birth Month friend, celebrate lunch with others, blow out candles, wish good things, and get more Facebook messages than I can keep up with. Last year my wonderful, non-compliant husband baked me a birthday cake FROM SCRATCH! It was amazing, and yes, I ate it.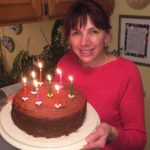 How does one manage eating through so many Birth Month festivities? Once again, it goes back to balance and making choices that keep me feeling not as old as 59 sounds: keep my workout dates at the gym, where I see lots of my friends and we are not eating; drink plenty of water; remember to eat more vegetables and fruits than coconut cake; eat slowly, savor every bite, and enjoy the company; save half of whatever I order to take home so I have another fun lunch the next day. I love to eat spinach salads with chicken, so it's not that tough. Oh, and when you celebrate over about 60 days, you can space out those lunch dates so you aren't feeling like a stuffed turkey at Thanksgiving.
The other cool thing about enjoying the Birth Month is that there is plenty of time to reflect. Am I spending my time on what truly matters to me today? If I am, perfect. If not, then I have this moment to make adjustments. With each Birth Month celebration comes a calm sense of urgency. Having a finite number of these forces me to Live Large now.
Thanks for reading. I hope you have a fabulous February and consider joining me in the Birth Month mantra when it's your time. Try it, you'll like it. By the time 60 rolls around, I'll probably be all about the Birth Year. In fact, I think I'll begin today.
"Life is short; I wanna live it well." —Switchfoot