Green bell peppers are not a favorite of mine. In fact, when I order veggie skillets, I usually request that they be omitted.
I find them to be bitter. Here's the reason why.
 Green bell peppers are unripe red bell peppers. They truly ARE bitter.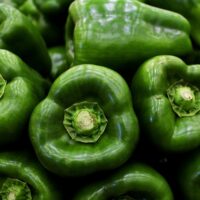 Since they take less time to grow, they are more abundant. This is the reason they typically cost less than the other colored peppers.
As the pepper is allowed to grow, it may turn yellow, orange and finally ripen into a sweet red bell pepper. Some varieties turn purple, white or brown.
While green peppers offer a good amount of Vitamin C (twice as much as an orange), along with Vitamins B6, K, A, and E, minerals and antioxidants, red peppers contain the most nutrients.
Another interesting health nugget is that as the pepper ripens, the cancer-fighting antioxidant properties change. This makes the case for including a variety of peppers in your diet.
Peppers are great for skin health, thanks to the high levels of Vitamin C. People with high levels of Vitamin C have skin that is less dry and wrinkled. They also are at a lower risk of developing skin cancer.
Other pepper insights:
Through an extremely casual survey, I learned that peppers often don't agree with people as they age. (Cooking them may help ease digestion.)
Bell peppers are part of the nightshade family of vegetables.
Botanically, it is a fruit. Nutritionally, it's considered a vegetable.
Red peppers are the
If you typically stuff green peppers, you may like to get a little crazy and stuff some other colors for fun.
Add to stir fry recipes for color and additional health benefits.
They add crunch to any sandwich, are perfect for dipping in hummus and taste great roasted.
Choose your favorite colors and enjoy, as long as peppers still agree with you.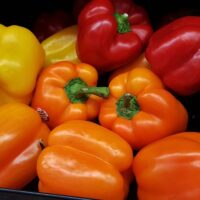 Something New
As many of you know, I've been a contributing editor to Get Healthy magazine, a publication of The Times of Northwest Indiana, for a number of years.
Beginning this month, I have a video accompanying my Get Healthy article. If you have an online subscription to the NWI Times, you'll be able to view it by clicking the link. If you don't, you may be blocked. (Sorry)
Thanks for reading and following my work. I appreciate you!
Much love,
Health Coach Carol
"You must prune to bloom. If the dead weight is not pruned and removed, it compromises the quality, performance, and output of the vine. When you prune what's not working in your life, you make the space and place for renewal to happen and for new growth to spring forth."
— Susan C. Young