I love this month's habit because local produce is abundant and everything looks and tastes so fresh. What better month than August to add one more vegetable to your day?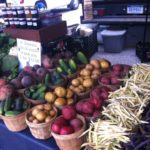 Most of us, author of this blog included, do not eat enough vegetables in the course of a week. It takes practice to even consider grabbing celery with hummus instead of chips. The idea of eating 8-12 servings of vegetables and fruits each day is a bit of a stretch. How to improve on this? One day at a time.
This month, practice eating one more vegetable each day than you typically would. Maybe you like eggs for breakfast and you eat them plain. Try stir-frying some chopped sweet peppers or mushrooms in your coconut oil for about 5 minutes, and then add your eggs. Whether you scramble them or make an omelet, you have snuck in that vegetable.
Other ideas: have a mixed green, spinach or kale salad for a snack; add celery sticks with nut butter to your lunch; have an avocado or salsa with your egg; add greens or avocado to your protein smoothie; make "spaghetti" from summer squash; tomatoes are easy to slice, in season, and add great color to any plate.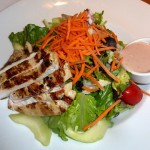 What does one serving look like? One serving equals ½ cup raw/cooked vegetables or 1 cup of raw leafy vegetables. (For reference, one serving of fruit is one medium-sized fruit or ½ cup raw fruit.)
If you are interested in fat loss, eat about five vegetables for every one fruit. If you are interested in muscle gain and/or performance enhancement, the ratio of vegetables to fruit can be more like three vegetables for every one fruit. *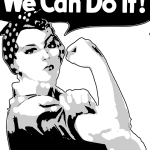 This process will get easier and feel more natural over time. Honest—I eat more vegetables than I used to simply because I have the awareness of this practice. When it is EASY to eat one more vegetable a day, go for two more a day. Before you know it, you will be addicted to vegetables!
When you come up with new and exciting ways to eat your vegetables, let my Inkwell Healthy Lifestyles Facebook community know. We are all in this together, so let's have some FUN!
"The easiest diet is, you know, eat vegetables, eat fresh food. Just a really sensible healthy diet like you read about all the time."  ~Drew Carey
As a health coach, I work with women who have lost themselves and neglected their health in order to raise their families. I help them find their inner compass and live healthier, more balanced lives.
Is this you? If so, I would love to hear from you.  Send me an email today! 
*Reference: The Essentials of Sport and Exercise Nutrition 2nd Edition, by Dr. John Berardi and Ryan Andrews