When I was in school, an "A" was earned with a score of 90% to 100%. There wasn't much room for error. When I practiced pharmacy, the range of error was even less, as you can imagine.
When it comes to eating in a way that serves you nutritionally, I like the 80% rule. It works like this: eat nutritionally sound foods at least 80% of the time. The other 20% is "room for error" or "cheat meals" or whatever term suits you. 
Reality check: life does not always allow us to carry out our perfect plan for fitness, food, and the way we think things ought to go. We have very little control. However, we can usually control our food choices and how much we move.
80% is realistic. The 80/20 rule allows for those special times with friends, holidays, birthdays and "because I had a tough day" days. 80% gets us past the ALL or NONE way of thinking, which only sets us up to fail miserably.
Here's how it works: 80% of the time make sure you eat the proper amount of lean protein, vegetables, carbohydrates and good fats.
An easy way to know how much you need:
Your palm determines your protein portions.
Your fist determines your veggie portions.                            
Your cupped hand determines your carb portions.
Your thumb determines your fat portions.
The recommendation is that women have one of each of those with most meals. For men, the recommendation is two of each with most meals. This guideline assumes you eat 4 times a day. Easy.
Let's do the math. Eating 4 meals a day means 28 meals a week. So, following the 80/20 rule, if 22 or 23 of those meals are on target, you'll most likely stay on track.
This takes into account Sunday brunch, the birthday celebration at work on Tuesday, "because it rained" on Wednesday (this person doesn't live in Northwest Indiana where it has rained everyday for at least a week—that person blew it BIG time), pizza sounded really good on Friday night, and the hot dog at Home Depot called to you on Saturday.
I've had days when I never saw a vegetable and the carbohydrates ruled the plate. It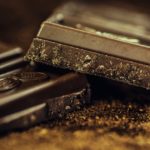 happens. Life happens. Eat well most of the time and you'll probably reach most of your health and fitness goals.
"All you need is love. But a little chocolate now and then doesn't hurt." –Charles M. Schulz