Plant-Based Wild Blueberry Muffins
Plant-Based Wild Blueberry Muffins
These muffins are dairy-free, gluten-free and egg-free. The texture is different than mainstay blueberry muffins. I find them to be amazing.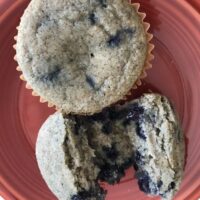 Ingredients:
3/4 cup almond flour*
1/4 cup buckwheat flour* (this is a gluten-free flour, non-wheat flour)
1 cup brown rice flour
2/3 cup monkfruit sweetener or coconut sugar
2 tsp baking powder (aluminum free)
1 cup unsweetened almond milk or light coconut milk
1/2 cup unsweetened applesauce
1/4 cup MCT or melted coconut oil
1 tsp vanilla extract
2/3 cup Wyman's frozen wild blueberries
Directions:
Preheat oven to 350F. Line a 12-cup muffin tin with paper muffin cups or grease well. Set aside.
In a medium-sized bowl, whisk together the flours, sugar, and baking powder.
In another bowl, add the almond milk, applesauce, oil, and vanilla. Whisk until uniform. Pour the wet ingredients into the dry. Stir until evenly mixed and lump-free. Fold in the wild blueberries until evenly dispersed in the batter.
Spoon the muffin batter evenly into the 12 muffin cups. Bake for 22-26 minutes, until browned on top and toothpick inserted comes out clean.
Cool for 5 minutes in the muffin tin, then move to a wire rack and cool completely. Best enjoyed on the day of baking and kept in an airtight container until needed.
Makes 12 muffins
*Note: This recipe is adapted from the Medical Medium (MM) Wild Blueberry Muffin recipe. The original recipe calls for 1 cup gluten-free oat flour instead of the almond and buckwheat flours. You could use 2 cups of a regular gluten-free flour blend as a substitute for all the various flours and they would probably taste more like a traditional muffin. MM also uses coconut sugar in place of monkfruit and alcohol-free vanilla extract or vanilla powder.
Protein Shake Ideas
The basic shake before adding any extras:
8-12 ounces of unsweetened nut or other non-dairy milk, cow's milk, water, iced green tea
3 or 4 ice cubes
2 scoops quality protein powder (Anywhere from 20 grams to 40 grams is usually sufficient, depending on your size and activity level. Check your brand for proper measure.)
Protein powders come in all varieties. Find one that is easy for you to digest and that tastes good. Expect to pay more for a high-quality protein, i.e., whey protein from grass-fed cows, vegan proteins that are non-GMO and certified gluten-free. Some protein powders have been found to contain heavy metals. If you need assistance, let me know and I'll give you a more personalized recommendation.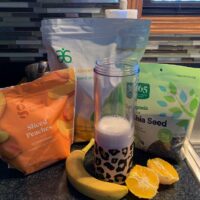 Next, add a vegetable, like a handful or two of spinach, kale or other leafy greens. You won't taste it, and you'll add lots of nutrients and fiber to help keep you full longer. You could add a couple tablespoons of roasted sweet potatoes along with some cinnamon to vanilla protein.
Another layer to add are fruits. They provide great flavor and more fiber to keep you full. When using frozen fruit, you may not need as much ice. Experiment with a handful of berries, half a banana, mango, orange slices, apple.  A couple tablespoons of canned pumpkin and spices mimics pumpkin pie. Store leftovers in single serving baggies in the freezer for future shakes. Cucumbers are refreshing with iced green tea. (Yes, pumpkin and cucumbers are actually fruits!)
Nuts or nut butters, measure about a thumb-size worth, to provide good fat. Avocado adds a creamy texture and good fat as well.
To chocolate or vanilla protein try adding any of these options:
peanut butter
peppermint leaf or extract
strawberries
walnuts
1/2 a frozen banana
1/3-1/2 avocado
The more ice or frozen fruit you add, the thicker your shake will be.  The wand hand mixer should work well to blend any of these ingredients. For greens, a blender does a better job.
If you only have vanilla or unflavored protein and would like to try chocolate for a change, add a tablespoonful or so of cocoa/cacao powder.
Other fruits and vegetables work well too.  Have fun experimenting with your creative side.
A protein shake may be a meal replacement or healthy snack/treat (instead of ice cream).
Here are a few recipes to get you started. Blend ingredients until smooth and creamy. Adjust liquid or ice amounts as desired.
Peanut Butter & Jelly
9 oz. milk of your choice
2 scoops vanilla protein powder
Handful of greens
1 cup berries
1 T. natural peanut butter or powdered peanut butter
2 T. oats (optional, depending on carb need)
3-4 ice cubes
Fundango Mango
9 oz. milk of your choice
2 scoops vanilla protein powder
Handful of greens
½ cup blueberries
½ cup mango chunks (or peach if preferred)
3-4 ice cubes
Be My Valentine
9 oz. milk of your choice
2 scoops chocolate protein powder
Handful of greens
1 cup strawberries or raspberries
3-4 ice cubes
Happy Elephant
9 oz. milk of your choice
2 scoops chocolate protein powder
Handful of greens
1 T. natural peanut butter or powdered peanut butter
3-4 ice cubes
Frittata in a Mug
Serves 1
½ cup packed fresh baby spinach leaves
2 Tablespoons water
2 large eggs
2 Tablespoons cottage cheese
¼ cup grated cheese
4 grape or cherry tomatoes, halved
pinch of sea salt
black pepper to taste
Combine the spinach and water in a microwave-safe mug or ramekin. Microwave on full power for 1 minute. Drain off excess water.
Stir in the remaining ingredients with a fork until everything is combined. Microwave on high power for 30 seconds. Stir, then microwave for another 60-90 seconds or until eggs are set to your liking.
Alternatives
Use any vegetables you have on hand that you would typically mix in scrambled eggs or an omelet. Ideas: green onions, mushrooms, ham, sweet peppers, hot peppers, etc. I happened to be out of tomatoes when I made it, which is why you can't find them in the photo. 🙂
If you avoid dairy, omit the cheeses and add in more vegetables or use a dairy free cheese.
Top with avocado slices or salsa.
Fall Frittata
8 ounces organic uncured turkey bacon, diced (I like Applegate brand)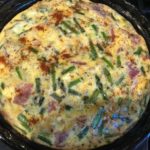 2 green onions, including much of the green, diced
1 bunch asparagus, chopped into similar size pieces
8 large eggs
¼ teaspoon sea salt
½ teaspoon freshly ground black pepper
¼ teaspoon paprika
1 avocado, sliced
Preheat oven to 350°. Cook the bacon over medium-high heat until lightly browned, about 2-3 minutes. Add onions and asparagus and cook another 2-3 minutes or until onions are translucent. Remove from heat. Whisk eggs in a bowl. Slowly add bacon mixture to eggs. Season with salt and pepper. Pour egg mixture into a prepared pie pan that has been lightly oiled with coconut oil. Bake for 25-35 minutes until browned and cooked through. Let cool on a wire rack for about 15 minutes before serving. Sprinkle with paprika and garnish with avocado slices. Makes 4 servings.
You may substitute another vegetable if you can't find fresh asparagus. Consider broccoli, spinach, mushrooms, or whatever looks good in the produce department.
Peanut Butter Oatmeal Breakfast Bars
These bars are good to have on hand in case you need to "grab and go," or you need a pick-me-up snack during the day. Store them in the freezer so they stay fresh. This helps for portion control too. Protein from the peanut butter and protein powder, smart carbohydrate from the oats, and minimal sugar, make these a winner with me.
1 cup natural peanut butter
1 Tablespoon honey
1 cup old fashioned rolled oats
½ cup + 2 Tablespoons oat flour
¼ cup powdered peanut butter
¼ cup vanilla protein powder
¼ teaspoon salt
½ teaspoon baking powder
½ teaspoon baking soda
½ teaspoon cinnamon
1 teaspoon pure vanilla extract
1 egg yolk
¾ cup unsweetened plain almond milk
1/3 cup mini chocolate chips
Optional topping:
2 ounces semisweet chocolate
1 Tablespoon vanilla protein powder
Preheat oven to 350°F. Grease an 8×8 inch pan and set aside. Microwave the peanut butter and honey in a large glass bowl until smooth, about one minute. Stir well. Let cool a bit while you mix together your dry ingredients.
In a separate bowl, combine the oats, oat flour, powdered peanut butter, vanilla protein powder, salt, baking powder, baking soda, and cinnamon. Mix well.
Add the vanilla extract and egg yolk to the peanut butter and honey mixture and beat well with an electric mixer. Pour the peanut butter mixture, almond milk, and mini chocolate chips into the dry oatmeal mixture. Stir until the ingredients are well combined. The dough will be thick. Press into the pan and bake until the edges are slightly brown and the mixture is set, about 20 minutes.
For the topping, melt the chocolate. Stir in the vanilla protein powder until smooth, and drizzle over the bars. If the mixture is a bit too thick to drizzle, add a bit of melted coconut oil until you reach the desired consistency.
Let cool and cut into bars. Makes 12 bars, unless you're like me and cut them smaller, since I'd rather eat 2 small bars than 1 large bar.
Notes: To make these gluten free, I use gluten free oats and gluten free oat flour by Bob's Red Mill. I use a vegan protein powder (Arbonne), which can be easier to digest than whey, and preferable in the case of a dairy allergy or dairy intolerance. For more information on, or to acquire Arbonne products, shoot me an email and I'll hook you up.
Gluten Free Pumpkin Pancakes
2 eggs
2 Tablespoons almond butter
2 Tablespoons canned pumpkin
1⁄2-1 teaspoon baking powder
1⁄2 teaspoon vanilla
1⁄2 -1 teaspoon stevia
Sprinkle of cinnamon (optional)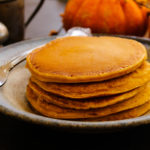 Whisk all ingredients together until smooth. Drop by tablespoonful into a preheated skillet with a bit of coconut oil melted in it to prevent sticking. Cook on each side until nicely brown.
Serve with fresh fruit and/or eggs. You could also use the pancakes in place of bread or English muffins to make an egg sandwich.
(Any type of berry may be added for variety. If you are in the mood for a special treat, add a few chocolate chips!)
Freeze leftover pumpkin in pre-measured amounts in baggies and you are all set for for the next batch– or you could toss into your protein smoothie.
Oatmeal Bake
Here is a breakfast dish that can be prepared the night before and baked in the morning, making it a simple weekday treat.  I cut back on the sweetener, so if it's not quite to your liking, drizzle a bit of maple syrup over the top once it's baked.  Serving it with berries or another fruit will add sweetness without overpowering the oats.  Alternatives are given to make this dairy and gluten-free.
Oatmeal Bake
1/3 cup melted butter or Soy Free Earth Balance
2 large eggs
1/2 cup pure maple syrup
1 ½ teaspoons baking powder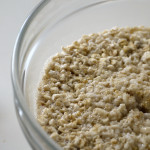 1 ½ teaspoons vanilla
1 teaspoon cinnamon
¼ teaspoon salt
1 cup + 2 Tablespoons milk or reconstituted goat milk
3 cups gluten-free oatmeal            

Grease 1 ½ quart baking dish. Drop eggs in and whisk until well beaten.
Add maple syrup, baking powder, vanilla, cinnamon, salt and whisk until there are no lumps. (This may take a minute or two, but keep whisking.)
Whisk in melted butter and milk. Stir in oatmeal and mix well.
Cover and refrigerate overnight. In the morning, bake at 350 degrees for 35-45 minutes, or until set in the middle.  (If you need to bake it immediately, that will work fine too.)
Serve warm with sliced strawberries or fruit of choice.