Last week we were basking in 11° weather here in Indiana. This week we had a blizzard.
If you've ever lived in a wintery weather place, you can visualize the scene: snow piling up non-stop all night into day; blowing so that you're not sure if it's still snowing or only blowing; and seeing 12-15 inches of the white stuff everywhere.
I thought it would never stop.
Fun times. Even my gym cancelled classes and closed early. It is beautiful, as I look out my window.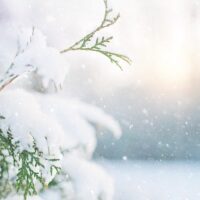 What's a girl to do in a blizzard? (After I cleared the driveway, of course.) Why, make cornbread to go with the Chicken Lemon Rice Soup.
 EDIT on the soup recipe from last week's blog post. I forgot to mention that you can use organic chicken bone broth as your base instead of chicken broth. The bone broth contains more protein and adds lots of health benefits, especially if you make your own.
Here's the link to my blog post on bone broth and a chicken bone broth recipe Bone Broth Recipe
Since the best carbohydrates we can consume are in the form of fruits and vegetables, cornbread is a real treat.
Sometimes, like after playing in the snow, I indulge. It was moist, delicious, and really hit the spot with the soup. I began my meal with a tossed salad and dessert was a mandarin orange.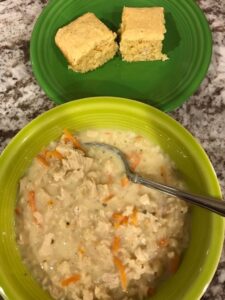 This is gluten-free; however, you could use all-purpose flour. I've also included substitutions to make it dairy-free. The original recipe called for ½ cup sugar. I cut the sugar to 1/3 cup and preferred it. I like to minimize sugar whenever I can achieve a delicious product with a bit less, since we would all do well to eliminate it from our diets. I'm not quite there. Progress, not perfection. 
Best Easy Cornbread
3/4 cup gluten-free cornmeal
1 cup Namaste Gluten-Free Perfect Blend Flour or all-purpose flour
1/3 to ½ cup organic sugar
2 ½ tsp. baking powder (aluminum-free)
1/2 tsp. salt
1 cup milk or reconstituted goat milk or dairy-free alternative
1 egg
1/8 cup melted butter or Earth Balance Soy Free Buttery Sticks
Add the dry ingredients to a large mixing bowl and stir with a wire whisk until well blended. Add the milk, egg, and butter. Stir the batter until all the ingredients are blended. Butter a 6″ X 9″ or 8″ X 8″ pan and evenly spread batter into pan. Bake at 375°F for approximately 20-25 minutes until lightly brown. Enjoy warm. Store leftovers in an air-tight container. May be frozen.
Bon appétit,
Health Coach Carol
"Snowflakes are one of nature 's most fragile things, but just look what they can do when they stick together." — Vesta M. Kelly