Chicken Salad
Chicken breast meat from a rotisserie chicken (skin removed) cut into small pieces
2 stalks celery, chopped
1 apple, gala or other sweet variety, chopped
2 handfuls of seedless (red) grapes, halved
Chopped raw pecans
Combine ingredients in a bowl. Add dressing and stir to coat well. Serve on a bed of greens or in a lettuce wrap.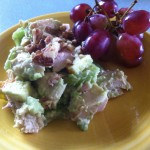 Other ideas:
Use canned chicken or chicken leftovers from another meal
Canned tuna may be substituted for chicken
Omit the apples and grapes and add onions
Add whatever you would like and see what happens-dried cranberries, cherries, almonds, walnuts
Creamy Avocado Dressing
1 ripe avocado, peeled and pitted
Juice of one lemon
2-3 Tbsp. olive oil
Salt to taste
Combine ingredients in a blender until smooth. Add to chicken or tuna salad. If dressing is not creamy enough, add a bit more olive oil to make it the right consistency.
This dressing is versatile and could be used on greens or as a vegetable dip.