We were recently in a small Michigan town and I was walking my Sophie dog. I noticed a cute little bakery on Main Street and happened to mention it to my dear husband, Mr. Non-Compliant.
He soon disappeared and I didn't have to wonder very long about where he had gone. You guessed it, The Bakery.
This was not your typical Dunkin' Donuts or Krispy Kreme. This was your cute little Mom and Pop bakery that had probably been in the family for decades, providing the community with delicious made-from-scratch goodies on a daily basis.
Yes, that was where he had gone.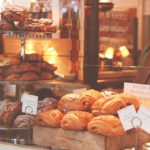 About 10 minutes later he returned with a small, white, wax-coated bakery bag. I could smell the delectable treats making their way toward me. Since bakery visits are a rare occurrence for us, I was anxious to learn what was in the bag.
So much for writing this week's blog on mindful eating.
The bakery bag contents: one blueberry muffin, one cinnamon roll and one cherry fritter. There are only the two of us and Sophie doesn't eat people food. Why three items?
Mr. Non-Compliant loves blueberry muffins made with fresh blueberries. We both have a fondness for cinnamon rolls that have more cinnamon than the white sugary frosting—this one did. Since I love cherries, the fritter was for me. He almost passed on the deep-fried fritter, thinking I would have no part of it. However, when the girl in front of him ordered one and told him it was amazing, he caved. He's learning.
We first had our protein smoothies so we had a smart start to our day. (Note: when you are going to eat something that is probably not beneficial to your health, it is best to first throw something down that is.) Then we broke out the fritter. I cut it into several small pieces and we tasted it. Neither one of us found it as amazing as the girl in the bakery did, so we didn't finish it.
After lunch, following the same nutrition principal as breakfast, we tried the cinnamon roll. We enjoyed every flaky, cinnamony bite, and it was worth the sugar, carbs and calories. Oh. My. Yes, it was amazing.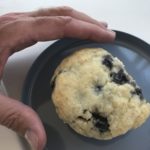 The blueberry muffin is all alone now, waiting for Mr. Non-Compliant to polish it off. I'm not sure when it will disappear. I do know that there will be lots of vegetables served for dinner.
I guess this blog is about mindful eating, in a way. My husband brought me baked goods, and I didn't really mind. Cheers to finding the balance, and eating mindfully.
"Unattended children will be given espresso and a free puppy." –Sign in The Bakery