I recently had the privilege of visiting and learning more about Indiana University – Purdue University Indianapolis (IUPUI). Prior to my visit, I knew that it offered degrees in the fields of engineering, medicine, law, dentistry, art and design, and that it was located in downtown Indianapolis. I also knew that I was able to take (and pass!) a physics class there that fulfilled my requirement to graduate from pharmacy school at Butler. That was about it. What I know now: there is an enormous amount of research that happens at the IU School of Medicine in Indianapolis. Did you know that there is a tissue bank where researchers are working tirelessly to end breast cancer, right in our own backyard? Well,
so to speak, if you live in Indiana.
There is a repository of healthy breast tissue at the IU Simon Cancer Center. It is the only one of its kind in the WORLD. So, what does all this mean? The mission is to look at a healthy breast cell and discover what causes it to become cancerous. At the tissue bank, they collect, store and disperse healthy tissue samples with the intent to end this terrible disease.
Since 2007, more than 5,000 women have donated non-cancerous breast tissue and more than 10,000 women have donated blood samples to help this cause. The samples are stored and frozen. The data collected, along with the samples, are accessible to researchers around the globe, so the same trials and tests aren't repeated unnecessarily. The healthy tissue serves as a control to compare with cancerous tissue in various experiments.
Think about it! It's tough to figure out what goes wrong with a healthy cell if all you ever have to compare it with are other diseased cells. The research team conducts follow-up studies with all donors on a yearly basis. This is critical, since there are numerous factors that play a role in developing, as well as preventing, cancer.
I found this fascinating, since there is so much to be learned from tissue, blood and DNA samples. For example, Natascia Marino, PhD, identified a marker in the blood of women who have donated healthy tissue and gone on to develop breast cancer, signaling there may be a way to predict breast cancer before a tumor develops. That is huge.
How beautiful that there are so many women who are willing to pay it forward to help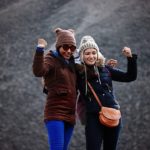 others. If you would like to learn more about this program and/or what is involved in becoming a donor, go to https://komentissuebank.iu.edu/
And the next time someone asks you what is so great about Indiana, you have this to brag about. Women helping women live better and longer lives.
"I don't know a name. I don't know a face, but I know the love and joy of helping another life by giving of oneself through research and sacrifice. I hope donating tissue and time will save someone, someday." –Dawn and Pearl