(The following article first appeared in the August 2020 issue of Get Healthy, a publication of The Northwest Indiana Times.) Online version
Most people I know are chocolate fans. Unfortunately, there are those who like the taste of chocolate, and it doesn't like them. Allergies and sensitivities can bring on a variety of symptoms, such as headaches, stomach cramps, hives, to name a few. The caffeine present in chocolate can cause problems for some. Then there are those individuals with an unhealthy chocolate addiction that may be grateful for a bit of help.
Superfood carob to the rescue. An alternative to cocoa, carob comes from the pods of carob trees, native to the eastern Mediterranean region and cultivated elsewhere. Ripe pods contain a sweet pulp that is dried, roasted, then ground into a powder. It is classified as a legume.
Carob is less bitter than chocolate and has a roasted, naturally sweet flavor. The really good news is that there are numerous health benefits to consuming carob products.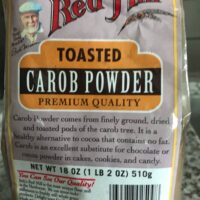 Health Benefits of Carob
High in insoluble fiber, so you stay fuller longer which may help you eat less and even lose weight. In addition, carob consumption helps decrease the amount of ghrelin (the hunger hormone) produced in the body, resulting in decreased appetite. High fiber foods are also helpful in controlling blood sugar, lowering cholesterol, preventing constipation, and contributing to overall gut health.
Provides calcium, an important mineral for bone health. Calcium also helps your heart, nerves, and muscles function well. Two tablespoons of carob powder contain 42mg of calcium, about 4% of the recommended daily value.
Does not contain oxalates, natural compounds found in chocolate and many other foods. Oxalates bind to calcium and are eliminated in the stool, therefore promoting calcium excretion. A diet high in oxalates increases your risk of developing kidney stones, especially if you have a history of this painful occurrence.
Good source of magnesium, iron, and potassium. Other minerals found in carob include copper, manganese, zinc, and selenium.
Rich in polyphenol antioxidants. Two of the main compounds, gallic acid and flavonoids, reduce oxidative stress, thereby helping the body ward off serious conditions linked to chronic inflammation such as heart disease, rheumatoid arthritis, and cancer.
Free of gluten and caffeine.
Rich in pectin and tannins, carob bean juice has been used to treat diarrhea.
Tyramine-free and considered safe to eat if you suffer from migraines. Foods that contain tyramine, like chocolate, may trigger migraine headaches.
Virtually no fat and no sodium. One cup of carob powder has 51 grams of sugar and less than 1 gram of fat. One cup of cocoa powder contains 1.5 grams of sugar and about 12 grams of fat. One cup of semisweet chocolate chips has 92 grams of sugar and 50 grams of fat. The choice is yours, depending on your individual health goals. Carob with its natural sugar, fiber, and protein, has a low glycemic index and does not spike blood sugar the way that chocolate does. You may find that you can add less sweetener to recipes when using carob in place of cocoa.
Fido and feline friendly. Carob does not contain high levels of theobromine, a compound found in chocolate that is toxic to dogs and cats in large quantities. Those dog treats you see in the pet stores that look good enough for us humans to eat are made with carob, not chocolate.
Use carob powder as you would cocoa. Some ideas:
Add to smoothies
Sprinkle on yogurt or ice cream
Add to your favorite quick bread or pancake batter
Make a hot carob drink in place of hot chocolate
Make a creamy carob pudding
Replace candy bars with carob bars
Brownies
Substitute carob chips in any recipe that calls for chocolate chips    
Carob can be used in a 1:1 ratio in most recipes that require chocolate or cocoa. If you're not sure about the flavor, you might first try swapping half of your cocoa chips or cocoa powder with the carob chips or powder. Carob can be purchased in many of the same forms as cocoa products, including chips, powder, extract, and syrup. They can be found at health food stores, specialty stores, and online.
The FDA has approved carob for consumption and as an additive in food, medications, and cosmetics. Carob allergies are rare.
As you relax and enjoy your carob treats, remember to drop a few crumbs for the dog.