The title of today's blog is also the title of a book I finished reading last month. Two Steps Forward, is the second book in 3-book series by Sharon Garlough Brown. The stories revolve around the very different lives of four women as they are drawn into a spiritual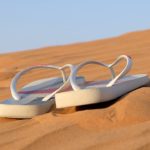 formation journey at a retreat center. They all hit various roadblocks along the way and form the Sensible Shoes Club. To find out more, you'll have to read the books.
So, of course, I am relating this to another aspect of life: food. Since our spiritual souls live in physical bodies, food is A REALLY BIG DEAL. As much as we may try (in vain, I might add) to not think about it, life is much about food.
Friends get together for breakfast, lunch, and meet up for dinner. I wonder how many business lunches happen across the country on any given day. If you've ever seen an episode of Seinfeld, Jerry and his pals were always meeting at Tom's Restaurant. Friends cast found themselves at Central Perk. Jesus frequently ate with tax collectors and other colorful characters.
Life and food are inseparable; which is why I often say, "It's all about the food." Translation: "This is life."
When we are practicing making better choices, the task of eating healthy may seem a bit daunting. We have every good intention of consuming LOTS of vegetables, minimizing sugar and red meat, getting to the gym. Then, life happens and we are involved in a food frenzy that seems to take us off course. When your friends suggest meeting for pizza on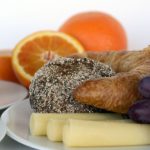 Friday night, your family celebrates the September birthdays on Saturday, and you have an anniversary brunch on Sunday at 11:00AM, well, two steps forward, one step back. Life, food, life.
What to do? Take it in stride by practicing the 80 (healthy foods)/20 (not ideal foods) rule. Remember portion control, adequate water intake, scheduled workout routines, and my favorite: only eat it if it's AMAZING.
I love discovering food combinations that satisfy the need for comfort, sugar, chocolate, carbs, etc., yet do not make me feel as though I took one step back. You may call it cheating. I call it REAL.
This week, I am celebrating life with this simple recipe for brownies. Thank you, Shaina, for bringing these to my attention. The secret is to only eat one or two small brownies and savor every bite. Folks who are non-compliant (yes, like my husband) will not be fighting you for the last crumb, so relax and enjoy. Two steps forward, two steps forward. Victory!
3-INGREDIENT BROWNIES (Paleo, vegan, gluten-free, refined sugar-free)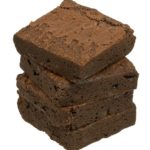 3 medium, overripe bananas (approximately 1 cup or so)
1/2 cup smooth almond butter (or any smooth nut butter)
2 T – 1/4 cup cocoa or cacao powder (more = richer taste)
You may like to add a small amount of coconut oil to make these a bit moister.
Preheat the oven to 350 degrees. Grease a small cake pan or loaf pan and set aside.
In a small glass bowl (for microwave) or in a pan (for stovetop) melt your nut butter. In a large mixing bowl, add the banana, nut butter and cocoa powder and mix very well. If you prefer a smoother texture to your brownies, use a mixer or blender.
Pour the mixture into the greased pan and bake for about 20 minutes or until cooked through. Remove from the oven and allow to cool completely before slicing into pieces.
These are best refrigerated and they keep longer too.
 "Growth is an erratic forward movement: two steps forward, one step back. Remember that and be very gentle with yourself."—Julia Cameron