Let's Talk About Breakfast
People say it's the most important meal of the day. In my humble opinion, they are ALL important! I do believe that breakfast is the most abused meal. By this I mean that we Americans make the poorest choices at that time of day. (Could it be because we don't get enough sleep? Hmmmm?)
We probably eat more foods that give us the least amount of nutritional value for breakfast than any other time of day. Consider: bagels, donuts, coffee cake, toast with jelly, pancakes with syrup, orange juice (it's loaded with sugar), Pop Tarts, cold cereal.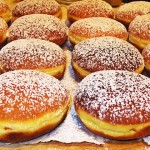 Wow! No wonder so many folks "crash" and need a coffee fix around ten!
These aren't necessarily "bad" foods. They simply result in not-so-healthy outcomes.
As we replace those typical options with:
Protein rich foods such as eggs, leftover meats from dinner, protein shakes
Whole grains such as oatmeal, quinoa, millet
REAL food that is unprocessed and low in sugar
Vegetables, fruit (instead of juice) and nuts 
We may gradually experience:
Increased energy
Balanced blood sugar
Less depression and better moods
Lower cholesterol
Less body fat
Improved muscle retention and strength
Healthier eating the remainder of the day
As I was saying, those typical options are not "bad," if you don't mind feeling rather grumpy and lethargic for half the day! 🙂  There are other reasons too—reverse the potential positives that occur with better eating, (i.e. poor energy, spiking blood sugar, depression, etc.), and meditate on those answers awhile. It's not pretty.
May's habit is to practice eating more nutrient rich foods for breakfast—especially protein.
Men need protein equivalent to about two palm-sized portions (30-40grams) each meal. Women need one palm-sized portion (20-30grams) each meal.
Many of you know that I enjoy pancakes. On those occasions when I eat them, I make sure I have eggs too. The eggs help fill me up so I eat fewer pancakes. I am less apt to "crash" later in the morning. Syrup is not necessary because I add blueberries or strawberries to them while they cook. This adds natural sweetness. By adding the eggs (protein), consuming fewer pancakes without syrup (lower carbs and sugars), I experience less of a sugar rush. See how this works? I have my pancakes and still keep my cheery, high-energy disposition!
Remember, this isn't something that will happen naturally, if toast and coffee have been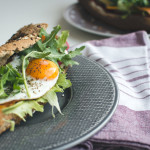 your "go to" for the last twenty years. Be patient. Start small. Set an achievable goal like adding an egg to your morning. Baby steps lead to lasting results!
"When you wake up in the morning, Pooh," said Piglet at last, "what's the first thing you say to yourself?"
"What's for breakfast?" said Pooh. "What do you say, Piglet?"
"I say, I wonder what's going to happen exciting today?" said Piglet.
Pooh nodded thoughtfully. "It's the same thing," he said."
― A.A. Milne
P.S. If you're looking to shape up for summer, and have more energy to play outdoors, contact me today.  We can do this together!
(Resource: http://www.precisionnutrition.com/all-about-breakfast)