Over the past couple of weeks, I tuned in to the 12-day video series, Alzheimer's – The Science of Prevention. I find this information fascinating and very important for many reasons:
I watched my mother's health decline from this disease for over a decade
There is currently no cure that comes in the form of pharmaceuticals
Seeking health through food and lifestyle choices is my passion
If I can avoid putting my loved ones through this pain, I will
Much of what I learned from the series, I've heard from other experts in the field before. Here's the really good news: there is HOPE, no matter what your genetics may, or may not, indicate. Having the genes for Alzheimer's, or not, does not determine whether or not you get the disease.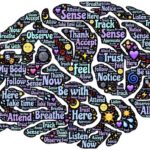 It is never too early or too late, to take charge of your brain's health. We can improve brain function at any age with lifestyle changes.
Dr. David Perlmutter, author of Grain Brain, and host of this series, explains that we can experience improved cognitive function by making changes today. Knowledge is power.
While Alzheimer's prevention is multi-faceted, here are 5 steps you can take to make sure you're on the right track for a healthy brain.
Practice eating a brain smart diet that is low in sugar and refined carbohydrates. I know, this is a real challenge for most people, especially with Halloween candy in every aisle of the grocery, and Christmas cookies on the horizon. PRACTICE cutting back, or totally cut out, whichever is easier. Replace those sweets with fresh fruit. Eat one AMAZING cookie instead of 3. At least be conscious of what you're eating and begin to notice your intake of non-vegetable carbohydrates—bread, pasta, treats, sodas, and the like.
Get some exercise. Moving our bodies gets blood and oxygen and nutrients to our brains. This is important. If you are on an exercise regimen that hits at least 150 minutes a week, stick with it. If not, begin walking a little each day. Increase, as you're able. The key in habitual exercise is doing something fun that makes you happy. Get creative and figure out what works best.
Find a way to de-stress daily, even for 5 minutes. Exercise counts, so that could be a 2 for 1. Sweet! Try a meditation practice. There are lots of guided meditations online that are free. (I like the CALM app.) Read, pray, do yoga, listen to your favorite music, spend time with friends. Do what helps you feel less frazzled.
Get quality, restorative, sleep. Sleep is Nature's brain tonic. You can't lose weight when you're sleep deprived, since certain hormones get out of whack. Poor decisions are made. It messes up your immune system. And lots more. The goal is 7 to 9 hours of quality sleep every night. It's like a shampoo for your brain. Sleep is sacred.   
Challenge your brain. Learning at every age is critical: a foreign language (apps like Duolingo are helpful for this), a musical instrument, a new hobby such as painting or sewing, play chess.
There are lots of things you can do TODAY to improve the health of your brain. Choose ONE and practice until it's a habit. Then choose something else. Do not feel overwhelmed and do nothing.
This is not all or none. Every little bit counts!
To Brain Health,
Carol
P.S. This entire series will replay all weekend long from 12:00 noon Friday, October 25th – October 27th at 11:59 PM! I'll put the link on my Inkwell Healthy Lifestyles Facebook page on Friday morning, so you can learn for yourself how we can control the health of our brains!
"If we could put exercise benefits in a pill form, it'd be the most powerful pill that we have in existence. Walking shoes are more, or as effective, as a pill for Alzheimer's." –– Alzheimer's – The Science of Prevention.