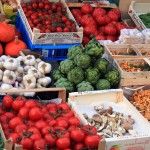 We need to eat more vegetables, but it can be a challenge if they are mushy and have no flavor. I remember having a major dislike of green beans as a child. (Interesting that my youngest son claimed green beans to be "my worst enemy" when he was growing up. Could it be an inherited trait?) Thankfully, we both outgrew it!
I now enjoy most vegetables, especially when they are roasted. This is so simple and will work for any single or combination of vegetables you like.
For example, take a bunch of asparagus. Wash and snap off the ends just above the point where the asparagus bends like rubber. Toss the spears in a tablespoonful or two of extra virgin olive oil. Sprinkle with salt or your favorite seasonings to taste. Place in a single layer on a stone bar pan or your favorite roasting pan. Bake in a 350-degree oven for about 30 minutes, tossing half way through. The time may vary depending on how crisp you like your vegetables. I like mine to be a bit on the brown and crispy side.
If you roast a variety of vegetables, do your best to cut them into pieces of similar size, so they cook evenly. Instead of olive oil, another option is to melt some coconut oil in your pan (unless it's summer and the oil is already a liquid), then add the vegetables and toss to coat.
Have fun trying "new to you" or seasonal vegetables. You might be surprised how tasty they are! I roasted Brussels sprouts (one of my husband's least favorite things) and they disappeared. He even went back for seconds, claiming that they were "ok." Moral of this story: make enough so you have some for lunch or snacks the next day
Live well,
Carol
What vegetable did Noah not take on the ark? Leeks