How could you not love a meal that is simple and AMAZING? Many people overlook the light and delicious flavor of fish…perfect for the warm and lazy days of summer. There are some great benefits to including wild caught varieties in our diet. The thought of making it in the comfort of your own home can be intimidating for a variety of reasons:
It smells bad or 'too fishy.'                 
How should I cook it?
When is it done?
How do I know if it's fresh?
I don't know what kind to buy.
We recently had a fish dinner that was outstanding! I picked up about a pound of fresh Alaskan Halibut steaks at Whole Foods when they were on sale. I can't recall if I have ever bought this type of fish before, but I decided to be adventurous. Since I only needed two pieces of halibut, it wasn't a huge investment, even if things went really, really bad.
I marinated the fish for about 45 minutes in equal parts (about ¼ cup) olive oil and white wine, juice of one lemon, rosemary, salt and pepper. There are a variety of marinade recipes floating around for halibut. Since it is a mild fish, I chose a marinade that has subtle flavors, so it wouldn't be overpowering.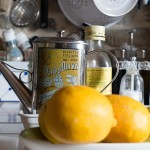 While the halibut was marinating, some Golden Yukons were baking over the charcoal. Next we added a bunch of fresh asparagus that had I tossed with olive oil, directly onto the grate. (Careful not to lose them in between!) When the spears were tender and a little crispy, some coarse sea salt was sprinkled over them.
The fish was also cooked directly over the coals. (We brushed a bit of olive oil on the grate first so it wouldn't stick.) Since halibut is a thicker type of fish, it was not necessary to put it in a foil pan. Each side was on the grill about 4 minutes and it was perfect! It is always better to undercook than overcook fish. Overcooked fish is BAD. It should easily flake, but not to the point of dryness.
The dinner was 5-star restaurant caliber for about $10 per person.
Here is my challenge to those of you who feel a bit nervous about cooking fish: Give it a try. If you aren't sure what or how much to buy, ask the person working in the fish department. Those people are trained to help you figure this out. They can help you select the freshest (Fish that is fresh is not stinky!) and tell you how to season and cook it too.
If you are at a loss and need a bit more encouragement, send me an email and I will be glad to help you! contact me