Roasted Root Vegetables
(The following recipe was written for and published in the September 16, 2022 edition of Get Healthy, a publication of The Northwest Indiana Times.)
Ingredients
2 pounds (or so) of various root vegetables, peeled or scrubbed and cut into 1-inch pieces. Carrots, potatoes/sweet potatoes, red onions, beets, turnips, whatever combination you like best, or try a "new" vegetable
1 head garlic, cloves separated and peeled
Extra virgin olive oil
Kosher salt
Ground black pepper
Balsamic vinegar (optional)
Directions
Preheat oven to 400°F. Toss cut vegetables and garlic cloves in a bowl with a light coating of extra virgin olive oil and salt, and pepper to taste. Spread the vegetables in a single layer on a baking sheet or stoneware pan (my favorite) or two, depending on the amount of vegetables you have. Roast the vegetables until tender and golden brown, stirring occasionally, about 45 minutes to 1 hour. If desired, drizzle with extra virgin olive oil or balsamic vinegar for more flavor, before serving.
Super Simple Roasted Garlic Cauliflower
After rinsing the head of cauliflower, cut it into florets, remove the thick stem portions, and slice it very thin. Arrange in a single layer on a stone pan (or your favorite roasting pan), drizzle with extra virgin olive oil, add salt, pepper, and about 4 cloves of minced garlic. Toss. Roast in a 400° F oven for 25-30 minutes, until golden brown, flipping the florets about halfway through.
Rice Substitutes and Recipes
While rice is a staple food item around the world, there may be those occasions when a substitute is in order.
Whether you're looking to have more variety, increase your protein, or decrease carbohydrate intake, there are a number of other options.
Riced cauliflower. Not my favorite, however most everyone I know loves this stuff. You can buy it already riced in the frozen foods section of most grocery stores. You can also make your own by chopping a head of cauliflower into several pieces then grating them with a box grater. Sauté in a bit of extra virgin olive or avocado oil over medium heat until tender and lightly browned, then season to your liking. A ½ cup serving has only 13 calories compared with 100 calories for white rice. You also get the benefits of counting this as a vegetable serving. 
Riced broccoli. Like it's buddy cauliflower, broccoli can also be riced. Prepare the same way. I think I may like this alternative, since broccoli is one of my favorites. It adds eye appeal to your dinner plate, especially if you're serving chicken or a white fish. ½ cup has about 15 calories and 2 grams of fiber.
Quinoa. ½ cup of this offers 4 grams of complete protein and tastes like a grain. I recommend adding some fresh chopped vegetables and a simple dressing to make a side dish or even a main dish by adding chicken or beans. Serve it warm or chilled. I've tried eating it plain, like rice, and it's a bit too dull for my liking. Quinoa is also gluten free. Click here for a quinoa salad recipe.
Chopped cabbage. Another healthy vegetable alternative that's low in carbs and calories. Choose purple or green, finely chop, sauté, and season. I've also cut it in ½" thin wedges, placed in a single layer on a pan, and roasted in the oven. Before roasting, season the cabbage with extra virgin olive oil, Kosher salt, garlic powder, and red pepper flakes. Bake for 30 minutes in a 400°F oven, or until it's golden brown and forks tender.
Other possibilities include whole-wheat couscous (pasta), barley (grain), whole-wheat orzo (pasta), farro (whole grain wheat), and bulgur wheat (grain, commonly used in tabbouleh). The grains add a nutty, earthy taste and chewy texture to your dishes. The whole-wheat pastas contain fiber and protein.
If these, as well as unusual rice varieties, are not available in your local grocery, try online.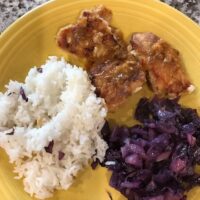 As you can see by the photo, Mr. Non-Compliant and I enjoy a rice substitute (purple cabbage) as well as white rice. Lemon chicken took the stage with these sides.
Eating well must never be boring. I challenge you to experience a new (simple) food adventure in the coming week.
Much love,
Carol
"Good food is very often, even most often, simple food."—Anthony Bourdain
Leek, Potato and Zucchini Hot Cakes
Ingredients:
1 medium potato
2 cups sliced leeks (white and pale green parts only)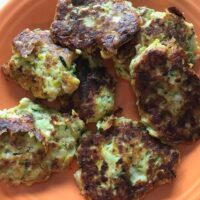 1 cup shredded zucchini
1/4 cup flour or gluten-free flour
1 egg, slightly beaten
1-2 tsp dried red chili flakes (according to your "heat" preference)
Salt and pepper
Oil for frying
Instructions:
Preheat your oven to 350 degrees F. Bake the potato until it's tender enough to pierce through with a fork, about 40-45 minutes.
Boil a saucepan of salted water and add the sliced leeks and cook until tender, about 5 minutes. Drain and wrap in a tea towel; wring out any extra moisture. Set aside.
Drain the shredded zucchini of its moisture. Wrap in a tea towel and wring it as well. Set aside.
Once the potato is cooked, peel it and roughly mash it.
Mix all the ingredients together and season to taste.
Make patties from the mixture. Heat about 2 Tbsp. oil in a skillet. When hot, gently drop the patties into the oil (medium heat), flatten with a spatula and let cook until nicely browned on both sides. Remove and drain on paper towels.
Plain Greek yogurt or sour cream with dill makes a nice dipping sauce to accompany these.
Carol's Healthier Hasselback Potatoes
Ingredients
4 large Russet, Idaho, or Yukon Gold potatoes
2 Tablespoons extra virgin olive oil (or melted butter or equal parts of each)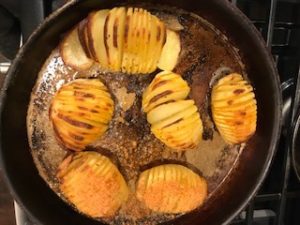 Coarse salt
Freshly ground pepper
Paprika
Directions
Preheat oven to 425 degrees F. Leave potato skins on, or peel, your choice. Place the potato in a large wooden or metal spoon, and using a sharp knife, make slices across the potato the short way, about an 1/8th inch apart. Gently cut down to the lip of the spoon, not all the way through the potato. The slices should stay connected at the bottom, and the spoon helps keep the depth even.
Slice all the potatoes in this manner and place them cut side up in a lightly oiled shallow baking dish or stone. Brush potatoes with half the oil, and sprinkle with salt, pepper, and paprika, or your favorite seasonings.
Bake for 35 to 40 minutes. Remove from oven and brush the remaining oil on the potatoes and season with a little more salt, pepper, and paprika. Return to the oven and bake another 20 minutes, or until they are nicely browned.
Note: Hasselback potatoes may be topped with grated cheese and dried bread crumbs, as well as other variations.
How to Bok Choy
Summer is adventure time. With the abundance of various fruits and vegetables available at grocery stores and farmers markets, there is no reason to be bored with your food.
Today, I'm giving you the scoop, and a simple recipe, for bok choy. Bok choy, also called Chinese cabbage or pak choi, is a member of the Brassica cabbage family. It is high in folate, calcium, vitamin B6, and fiber. For those of you who are keeping carbohydrate intake low, this vegetable is a winner.
The flavor is very mild, and it may be added to soups, stews, or stir-frys. I sautéed it for a side dish.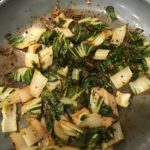 When shopping for bok choy, look for vibrant green at the ends (similar to spinach), and firm stems. Wash it just before cooking. Trim away the bottom, similar to the way you would clean a bunch of celery. Separate the individual stalks, and wash away any mud that is hiding.
Cut the bok choy (or baby bok choy), into similar size pieces. If you have the baby version, you may simply want to cut it in halves or quarters.
Sautéed Bok Choy
Heat oil (I like avocado oil for higher heat sautéing) and add a couple cloves of fresh garlic, minced or pressed. Cook briefly, until fragrant, being careful not to burn it. (I often burn it…)
Mix in the
bok choy
and stir. Cook until the leaves are bright green and the stalks are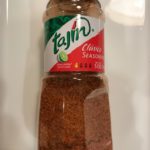 slightly translucent, about 4-5 minutes, or to your desired tenderness. (This vegetable cooks down, like spinach.) Sprinkle with salt and pepper, red pepper flakes, or your favorite seasonings. I love Tajin  Clasico Seasoning. It has a slight kick to it, thanks to the chili peppers and lime. I've been using this on all my vegetables lately, and they are a big hit—even with Mr. Non-Compliant.
Have fun trying something new this week! If you end up with a vegetable you aren't sure how to prepare, let me know and I'll help.
Bon appetit!
Health Coach Carol
P.S. If you'd like to simply look and feel AMAZING, I've got a simple system that works. A complimentary coaching session is yours for the asking!
Email me today
and we'll set up a call.
"Pull up a chair. Take a taste. Come join us. Life is so endlessly delicious."–Ruth Reichl 
Gluten Free Bread
Ingredients
3 1/2 cups Namaste Foods Perfect Flour Blend
1 1/2 cups milk, any kind (I like unsweetened, plain almond milk)
1 Tbsp cider vinegar
2 Tbsp olive oil
2 Tbsp honey
1/2 cup finely ground tapioca flour*
1 tsp sea salt
3 eggs, at room temperature
1 Tbsp yeast
1/4 cup warm water (Dissolve yeast in a water temperatures between 110°F – 115°F for best results)  
Directions
Mix yeast in 1/4 cup warm water and set aside for 5 minutes. Warm milk, add cider vinegar, oil, and honey. Beat eggs and add to milk mixture. Add yeast mixture to milk mixture and blend. Add liquid ingredients to dry ingredients and blend on medium speed with electric mixer for 3 minutes. Pour into well oiled/buttered loaf pan. Cover loosely with sprayed waxed paper or plastic wrap and towel and let rise for 30 minutes in a warm place. Preheat oven to 350°F.
Remove the plastic wrap and towel. Cover bread loosely with foil tent to prevent over browning and bake for 30 minutes. Remove foil and continue baking for another 35-40 minutes. Let cool completely before slicing.
*Tapioca flour is also known as tapioca starch. You may substitute cornstarch OR arrowroot for the tapioca flour, if you prefer. I have only made this recipe using the tapioca flour.
Summertime Grilled Potatoes
Scrub your favorite variety of potatoes, or combine Sweet, Idaho, Yukon Gold, whatever you have on hand. Cut in thin slices and place about two layers on a piece of foil you have coated with olive oil. This will make it easier to spoon them out once they're cooked. (If you have a crowd, it's better to make a couple smaller packets so they cook evenly.)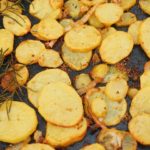 Drizzle the potatoes with olive oil and season with salt and pepper. For variety, try Lawry's Seasoned Salt, garlic powder, paprika (adds a nice color), and/or rosemary. You can't mess this up, so have fun experimenting. You could also add sliced onions, zucchini, or peppers. Secure the foil and wrap again for good measure. Grill for about 45 minutes, depending on how hot your grill is, turning halfway through cooking time.
These potatoes are my summer go-to side dish with any grilled meats, poultry or fish.
Vegetables with Taste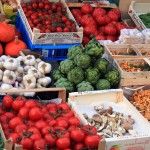 We need to eat more vegetables, but it can be a challenge if they are mushy and have no flavor. I remember having a major dislike of green beans as a child. (Interesting that my youngest son claimed green beans to be "my worst enemy" when he was growing up. Could it be an inherited trait?) Thankfully, we both outgrew it!
I now enjoy most vegetables, especially when they are roasted. This is so simple and will work for any single or combination of vegetables you like.
For example, take a bunch of asparagus. Wash and snap off the ends just above the point where the asparagus bends like rubber. Toss the spears in a tablespoonful or two of extra virgin olive oil. Sprinkle with salt or your favorite seasonings to taste. Place in a single layer on a stone bar pan or your favorite roasting pan. Bake in a 350-degree oven for about 30 minutes, tossing half way through. The time may vary depending on how crisp you like your vegetables. I like mine to be a bit on the brown and crispy side.
If you roast a variety of vegetables, do your best to cut them into pieces of similar size, so they cook evenly. Instead of olive oil, another option is to melt some coconut oil in your pan (unless it's summer and the oil is already a liquid), then add the vegetables and toss to coat.
Have fun trying "new to you" or seasonal vegetables. You might be surprised how tasty they are! I roasted Brussels sprouts (one of my husband's least favorite things) and they disappeared. He even went back for seconds, claiming that they were "ok." Moral of this story: make enough so you have some for lunch or snacks the next day
Live well,
Carol
What vegetable did Noah not take on the ark? Leeks