Now is the time to make tomato pie. I am of the opinion that homegrown tomatoes are a slice of heaven, here and now. If you've never experienced tomato pie with homegrown tomatoes, you have not yet fully lived.
I first learned about tomato pie from Laurie Colwin. Laurie was a novelist and short story writer who wrote some great books about food. I love to read books about food, so she became my buddy and mentor, even though I never had the pleasure of meeting her.  
For those of you who have dietary restrictions, you may alter this recipe in any way that suits you, with one exception—you must include tomatoes. I made it with a gluten-free crust and it was delicious. I have even made it with…canned tomatoes, when one very cold winter, I was in desperate need of a summer fix. Making (and eating) this brings me great joy, along with an abundance of happy memories.
I am sharing Laurie's recipe so that you may experience a bit more of summer abundance– and a slice of heaven.
TOMATO PIE
The pie has a double biscuit-dough crust, made by blending:
2 cups flour
1 stick butter
4 teaspoons baking powder
Approximately 3/4 cup milk
Blend by hand or food processor. I like to use a pastry blender, since I once over- processed my pie dough and had to start over. Roll out half the dough on a floured surface and line a 9-inch pie plate with it.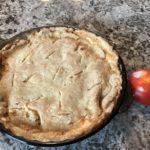 Pie ingredients:
2 pounds peeled fresh tomatoes or 2×28-ounce cans plum tomatoes, drained
Basil, chives, or scallions, depending on availability and your mood
1 and ½ cups grated sharp cheddar cheese
1/3 cup mayonnaise
2 Tablespoons lemon juice
Slice the tomatoes thin and lay the slices over the crust. Scatter them with your chosen seasoning and sprinkle one cup of the cheese on top of the tomatoes. Over this, drizzle the mayonnaise that has been thinned with the lemon juice. Top this with the rest of the grated cheese. Roll out the remaining dough, fit it over the filling, and pinch the edges of the dough together to seal them. Cut several steam vents in the top crust and bake the pie at 400 degrees F. for about 25 minutes, or until bubbly and the crust is golden. The secret of this pie is to reheat it before serving, which among other things ensures that the cheese is soft and gooey. It can be made early in the morning, then reheated in the evening at 350 degrees F. until hot.
Taken from  More Home Cooking: A Writer Returns to the Kitchen.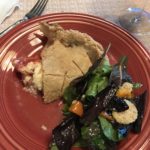 "It is hard to describe how delicious this is, especially on a hot day with a glass of magnificent iced tea in a beautiful setting, but it would doubtless be just as scrumptious on a cold day in your warm kitchen with a cup of coffee." – Laurie Colwin