Here is a breakfast dish that can be prepared the night before and baked in the morning, making it a simple weekday treat.  I cut back on the sweetener, so if it's not quite to your liking, drizzle a bit of maple syrup over the top once it's baked.  Serving it with berries or another fruit will add sweetness without overpowering the oats.  Alternatives are given to make this dairy and gluten-free.
Oatmeal Bake
1/3 cup melted butter or Soy Free Earth Balance
2 large eggs
1/2 cup pure maple syrup
1 ½ teaspoons baking powder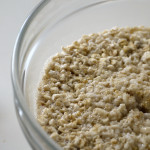 1 ½ teaspoons vanilla
1 teaspoon cinnamon
¼ teaspoon salt
1 cup + 2 Tablespoons milk or reconstituted goat milk
3 cups gluten-free oatmeal            

Grease 1 ½ quart baking dish. Drop eggs in and whisk until well beaten.
Add maple syrup, baking powder, vanilla, cinnamon, salt and whisk until there are no lumps. (This may take a minute or two, but keep whisking.)
Whisk in melted butter and milk. Stir in oatmeal and mix well.
Cover and refrigerate overnight. In the morning, bake at 350 degrees for 35-45 minutes, or until set in the middle.  (If you need to bake it immediately, that will work fine too.)
Serve warm with sliced strawberries or fruit of choice.