Chef Lynn's Spicy Chicken Rigatoni with Gorgonzola Sauce
This is Chef Lynn's version of her favorite dish at Popolano's, one that she likes even better than the original. While it looks like lots of steps at first glance, the most time consuming task is combining all the seasonings to coat the chicken. Another bonus: other than the pot to cook the pasta, you only need one skillet to make this dish. Makes 4-6 servings. (I have permission to share her recipe.)
I've made some notes about substitutions below. While we discussed making this healthier, she makes it so rarely that we are going with the "only eat it if it's amazing" principle. Portion control is also a great way to enjoy this pasta dish and stick with a healthy eating plan.
Ingredients:
3 Tbsp Olive Oil
2 lbs. Boneless Skinless Chicken Breast, cut into 1-inch cubes
1/2 teaspoon Salt
1/2 teaspoon of ground Black Pepper
1 Tbsp Basil
1 Tbsp Oregano
1 Tbsp Thyme
1/4 tsp Ground Rosemary
1 tsp crushed Red Pepper
1 tsp Chili Powder
1/8 tsp Cumin
2 Tbsp Paprika
1/2 tsp Onion Powder
1/2 tsp Garlic Powder
1/2 lb. Mushrooms, sliced
1 Shallot, minced
3/4 cup low sodium Chicken Broth/Stock
1/4 tsp Worcestershire sauce
4 oz Gorgonzola Cheese
1 oz fresh Parmesan Cheese
1 oz Romano Cheese
1/2 cup Heavy Cream
2 Tbsp fresh Parsley, chopped
3/4 pound rigatoni
Instructions:
Mix the salt, black pepper, basil, oregano, thyme, rosemary, red pepper, chili powder, cumin, paprika, garlic and onion powders in a large bowl. Add the cubed chicken and toss until coated. In a large frying pan, heat 2 Tbsp of olive oil over moderate heat. Once hot, add the chicken, brown on all sides and cook until done. Remove from the pan and set aside.
Add the remaining olive oil to the hot pan, along with the mushrooms and 1/8 tsp salt. Cook for about 3 minutes, just until they start to get a little soft. Remove the mushrooms from the pan and set aside with the chicken.
Add the shallot, broth and Worcestershire sauce to the hot pan. Cook, stirring and scraping the bottom of the pan to dislodge any browned bits that cling to the bottom. Simmer until the liquid is reduced to about 1/3 cup, approximately 5 minutes.
Add all of the cheese and cream to the pan along with the chicken, mushrooms and any accumulated juices. Add the parsley and simmer to heat through.
Meanwhile, in a large pot of boiling salted water, cook the rigatoni until just done, about 14 minutes. Drain pasta and toss it with the sauce.
Carol's substitutions (because I didn't have the right ingredient or require gluten and dairy free)
*Shallot—Finely chopped red or yellow onion, ¼ to ½ cup
*Chicken broth–vegetable broth
*Gorgonzola, Parmesan, Romano cheeses—6 ounces goat cheese
*Heavy Cream—Reconstituted goat milk
*Rigatoni—Gluten-free pasta of your choice cooked according to package directions
Veggie Stuffed Turkey Burgers
(The following recipe first appeared in the September 2020 issue of Get Healthy, a publication of The Northwest Indiana Times.)
Ingredients:
1 tablespoon avocado oil
1/2 cup diced onion
1/2 cup chopped mushrooms or 4-ounce can of mushrooms, drained and chopped
1 tablespoon balsamic vinegar
2 cups fresh spinach
1 small tomato, diced (liquids drained) or 1 tablespoon tomato paste
1 tablespoon Dijon mustard
Sea salt and pepper, to taste
16 ounces ground turkey (can substitute ground grass-fed beef or bison)
8 outer leaves of romaine lettuce
Instructions:
1. Heat oil over medium-high heat. Add onion, cook for 4 minutes. Reduce heat to medium. Stir in mushrooms.
2. Add balsamic vinegar and stir. Cook for 5 minutes, stirring occasionally.
3. Add spinach and tomatoes and cook for another minute. Stir in mustard and turn off heat. Season with salt and pepper. Place spinach mixture in the refrigerator and cool for 15 minutes.
4. Form turkey into 4 equally sized balls. With your fingers, make a well in the center of each ball. Stuff about 2 tablespoons of spinach mixture inside each ball. Seal the top and flatten to form a patty. Reserve any leftover spinach mixture to serve on the side.
5. Pan-fry or broil your burgers:
• To pan-fry: Heat a pan and add a little oil. Add the patties and cook for about 5 minutes on each side or until desired doneness is reached.
• To broil: Set oven broiler to "high." Place patties on a foil–lined baking sheet on top oven rack. Broil for about 3 minutes, flip patties over, and broil for about another 2 to 3 minutes or until burgers reach desired doneness.
6. Let the burgers rest for a couple of minutes.
7. To serve, take 2 romaine leaves and sandwich burger between them.

Notes: Tomato paste is available in a tube, and is great when you only need a small amount. The tube of paste stays fresh for months in the refrigerator. If you don't care for the vegetables used to stuff the burgers, use what you like and they'll be delicious.
Unstuffed Pepper Soup
It's soup weather. It's almost Christmas. It's crunch time.
You need to eat nutritious food and you've get presents to buy, decorating to do, and cookies to bake. What's for dinner?
Here's a recipe that's simple, quick, and delicious. Makes about 6 servings in under an hour.  
Unstuffed Pepper Soup
1 pound lean ground beef (organic, grass-fed, preferred)
2 Tablespoons avocado oil, divided
Salt and freshly ground pepper
1 small yellow onion, chopped
1 red bell pepper, chopped
1 orange bell pepper, chopped (or any color combination of bell peppers)
2 cloves garlic, pressed
2 (14.5 oz.) cans petite diced tomatoes (may use fire roasted)
1 (15 oz.) can tomato sauce
2 cups beef bone broth (or beef broth)
½ tsp. dried basil
¼ tsp. dried oregano
1/2 cup (or so) Cabernet Sauvignon or other red wine (optional)
1 cup uncooked organic white or brown rice
In a large pot, heat 1 Tbsp. avocado oil over medium heat, then add beef, salt and pepper. Brown the beef, stirring occasionally and breaking it up. Drain beef by using a slotted spoon to put it onto a plate lined with paper towel to absorb excess fat. Set aside. Remove any fat from pan.
Heat remaining 1 Tbsp. oil in pot and add onions and peppers. Sauté about 8 to 10 minutes. Add garlic and sauté about 30 seconds longer.
Add tomatoes, tomato sauce, beef bone broth, basil, oregano, wine, and cooked beef. Season with salt and pepper to taste. Bring to a light boil, then reduce heat to low, cover and simmer, stirring occasionally, about 30 minutes.
While soup simmers, cook rice according to package directions. I like to cook the rice in beef bone broth for added protein and nutrition.
When soup is done, serve in individual bowls, adding desired amount of rice to each bowl. By storing the soup and rice in separate containers, and adding rice upon serving, it doesn't get mushy when you have leftovers.
Note: If you have leftover wine from the holidays, freeze in ice cube trays and add to soups, stews, or other recipes, for added flavor.
Merry Christmas!
Much love,
Carol
"No man is a failure who has friends." — It's a Wonderful Life
Veggie Protein Stir Fry
Here's a quick and easy recipe using Beyond Meat meat substitute that is so tasty, my Mr. Non-Compliant never knew it wasn't ground beef! I've made it for several of my Kitchen Coaching classes and it's gotten rave reviews. You can find Beyond Meat products in many 
local grocery stores.
Veggie Protein Stir Fry
• Fresh or frozen vegetables cut in similar size pieces (red sweet pepper, carrots, broccoli, etc., the more colorful the better)
• 1-2 cloves minced or pressed garlic
• Lawry's Seasoned Salt or your favorite seasoning, to taste
• Extra virgin olive oil, enough to coat the pan
• One package of Beyond Meat, The Beyond Burger
Sauté your choice of vegetables in extra virgin olive oil. Once the vegetables are tender, about 10 minutes, add the garlic and The Beyond Burger. Break apart the "burgers" so they are in crumbles and mix with the vegetables. Cook for another 5 minutes. Season to taste. Enjoy as is, or top pasta, brown rice, or make a lettuce wrap with some Romaine lettuce leaves. The quantity of vegetables and Beyond Burgers you use will depend on how many people you're feeding. One package of The Beyond Burger has two patties (2 servings), each containing 20 grams of plant protein, no soy or gluten.
Broiled Crab Cakes
3 cans of crabmeat, drained (6 oz. each)
2 Tbsp. bread crumbs or rice cracker crumbs (I made rice cracker crumbs by finely
crushing some crackers I had on hand.)
Salt and pepper to taste
1 Tbsp. fresh parsley or about 2 tsp. dried
1 egg
1 ½ Tbsp. mayonnaise
½ tsp. ground dry mustard
¼ tsp. paprika
Dash of hot pepper sauce or St. Elmo Cocktail Sauce (found this in the fridge and it was perfect!)
Mix together the crabmeat, bread or cracker crumbs, salt, pepper, and parsley. Whisk together the egg, mayonnaise, dry mustard, paprika and hot sauce. Add to the crab mixture and mix well. Make into patties of uniform size. Place on a plate, cover with plastic wrap and refrigerate for about 30 minutes. This keeps them from falling apart so easily since they have a chance to set. Broil for 10-15 minutes until lightly browned, turning halfway through.
Serve on a bed of lettuce or bun. This recipe made 6 patties and two of us ate them all as a dinner with sides. These would make a nice appetizer or light lunch.     
Tomato Pie
Now is the time to make tomato pie. I am of the opinion that homegrown tomatoes are a slice of heaven, here and now. If you've never experienced tomato pie with homegrown tomatoes, you have not yet fully lived.
I first learned about tomato pie from Laurie Colwin. Laurie was a novelist and short story writer who wrote some great books about food. I love to read books about food, so she became my buddy and mentor, even though I never had the pleasure of meeting her.  
For those of you who have dietary restrictions, you may alter this recipe in any way that suits you, with one exception—you must include tomatoes. I made it with a gluten-free crust and it was delicious. I have even made it with…canned tomatoes, when one very cold winter, I was in desperate need of a summer fix. Making (and eating) this brings me great joy, along with an abundance of happy memories.
I am sharing Laurie's recipe so that you may experience a bit more of summer abundance– and a slice of heaven.
TOMATO PIE
The pie has a double biscuit-dough crust, made by blending:
2 cups flour
1 stick butter
4 teaspoons baking powder
Approximately 3/4 cup milk
Blend by hand or food processor. I like to use a pastry blender, since I once over- processed my pie dough and had to start over. Roll out half the dough on a floured surface and line a 9-inch pie plate with it.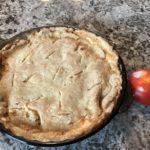 Pie ingredients:
2 pounds peeled fresh tomatoes or 2×28-ounce cans plum tomatoes, drained
Basil, chives, or scallions, depending on availability and your mood
1 and ½ cups grated sharp cheddar cheese
1/3 cup mayonnaise
2 Tablespoons lemon juice
Slice the tomatoes thin and lay the slices over the crust. Scatter them with your chosen seasoning and sprinkle one cup of the cheese on top of the tomatoes. Over this, drizzle the mayonnaise that has been thinned with the lemon juice. Top this with the rest of the grated cheese. Roll out the remaining dough, fit it over the filling, and pinch the edges of the dough together to seal them. Cut several steam vents in the top crust and bake the pie at 400 degrees F. for about 25 minutes, or until bubbly and the crust is golden. The secret of this pie is to reheat it before serving, which among other things ensures that the cheese is soft and gooey. It can be made early in the morning, then reheated in the evening at 350 degrees F. until hot.
Taken from  More Home Cooking: A Writer Returns to the Kitchen.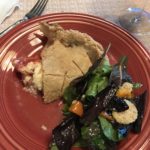 "It is hard to describe how delicious this is, especially on a hot day with a glass of magnificent iced tea in a beautiful setting, but it would doubtless be just as scrumptious on a cold day in your warm kitchen with a cup of coffee." – Laurie Colwin
Basil Turkey Burgers
Here's a quick and easy meal that's big on flavor. Pan fried in the kitchen or grilled outdoors, they're delicious! The addition of olive oil keeps them from being dry. For those of you who don't eat dairy and like a little "kick," add a bit of cayenne pepper.
1 pound ground turkey (93% lean)
3 or 4 fresh basil leaves, chopped
1-2 Tablespoonfuls extra virgin olive oil
1 teaspoonful (or to taste) Lawry's Seasoned Salt
Strong cheese, such as Romano, Swiss or BellaVitano Merlot (optional)
In a small bowl, combine ground turkey, chopped basil leaves (cutting with kitchen shears works well, too), extra virgin olive oil, and Lawry's Seasoned Salt. Make into 3 patties. Grill or pan fry until brown and cooked through. Testing with a meat thermometer is a sure way of knowing when they are done. Add a bit of cheese at the end of cooking time.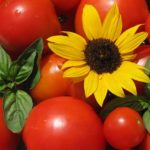 Serve with sliced Vidalia onions, tomatoes, lettuce, and your favorite condiments.
A note about cheese: for those of you who tolerate dairy products, a small bit of very flavorful cheese compliments the mild flavor of the turkey beautifully. I like BellaVitano Merlot, a Cheddar-Parmesan inspired cheese immersed in Merlot wine for extra tang. It is sold by weight and I have found it in Costco and other local grocery stores that sell fine cheeses. By using a cheese with a more robust flavor, you need less. Of course, goat cheese is another option.
"You don't have to cook fancy or complicated masterpieces — just good food from fresh ingredients." – Julia Child
Beef Vegetable Soup (Crock-Pot)
You will need: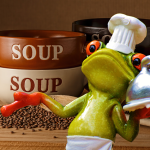 32 oz. organic beef broth/stock
2 small onions, chopped
3 stalks of celery, chopped
3 carrots, sliced
2 potatoes, peeled and diced
1 sweet potato, peeled and diced
1-14½ oz. can diced tomatoes with juice
½ tsp. pepper
1 tsp. salt (optional)
2 cups frozen green beans
12 oz. package frozen soup mix vegetables
1/4 cup quinoa
1 pound ground beef, browned and drained
At the end of cooking time:
¼ cup butter, melted
¼ cup flour (use brown rice flour or gluten-free flour blend if you avoid gluten)  
Directions:
Put all ingredients in the crock-pot, except the butter and flour. Cover and cook on Low for 8 to 10 hours (High for 4 to 5 hours).
One hour before serving, make a roux by melting the ¼ cup butter in a small saucepan, then stirring in the ¼ cup flour, until smooth. Add this mixture to the soup and stir. Cook the soup on High until it thickens a bit.
For variety you could:
*Substitute ground turkey or ground chicken for the beef (and use chicken broth in place of beef. I have never done this, but why not?) Or, finely diced chuck roast, browned.
*Add different vegetables
Hints:
*I usually double this recipe so I have plenty of leftovers
*Brown your ground beef (or ground turkey or chicken) ahead of time and freeze so you can put this together quickly on another day.
*No time to chop vegetables? No problem. Use a couple bags of frozen soup mix or other vegetables you like. It will be tastier than any soup that comes out of a can or box.